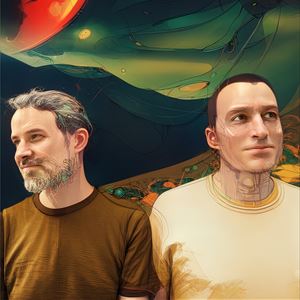 This event is for 18 and over - No refunds will be issued for under 18s.
More information about Plaid tickets
On the cusp of their 30th year with Warp records, now is the time to reflect on the massively important presence of Plaid, aka Ed Handley and Andy Turner. An institution since the late 80s, they're monumental cornerstones for any self-respecting electronic music fan; mainly as Plaid, but also under aliases including The Black Dog and Balil – not to mention their work with Bjork.
Playful and wondrous, their 11 th album 'Feorm Falorx' is generally gentler than the dark angularity of its predecessor 'Polymer', but it's no less deep, and maintains the melodicism for which they're loved. It's still highly rhythmic too – traversing 'Set If Off' hi-hats, digitised harpsichords, mangled mandolin, cascading strings, rude basslines, mercurial grooves and even a touch of goth guitar.
Keen advocates of technology, here they manage to sound cutting edge, but also warm, human and nostalgic – purveying a sort of high-tech-retro-futurism. As usual they're ever evolving, but there's also line traceable right back within their own music. From their maverick early releases until now, they've embraced new methods of synthesis and explored diverse musical styles, maintaining a thread that spins through the early hip hop of their youth and beyond – to the sounds of the 60s and 70s that inspired it. Although not immediately obvious, on closer listen you can discern the influence of wigged-out grooves like Prince's 'Soft and Wet', Bob James' 'Westchester Lady' and Jethro Tull's 'Boure?e'.
The creatively emancipated, light-hearted nature of the sounds is reflected in the album's concept, which finds the duo recreating a recent performance at the Feorm Festival, an intergalactic shindig held on the planet Falorx. In order to survive the Falorxian atmosphere they were converted into light so the traditional recording devices they'd taken on their spacecraft 'The Campbell' were not functional. Fortunately, having consulted Earth's Space Agency, it was deemed safe to recreate the performance back in their London studio. Extensive testing of the resulting recordings have established a level of thought contamination deemed, "perfectly acceptable."
The album artwork and press photos were created using a myriad of AI technology, Image Synthesis and OpenAI's DALL·E, which can be seen in action here. Expanding on the same theme using AI/AR mechanisms, these will be followed by videos and a graphic novel, building into a whole Falorxian planet. Plaid have toured extensively and collaborated widely over the years, writing for and performing with sonic researchers, percussion groups, solo artists and orchestras – most recently for the BBC Concert Orchestra. They have written for computer games and scored several feature films, one of which, 'Tekkon Kinkreet', was awarded the Japan Academy Prize for Animation of the Year.