Skating Polly
The Mash House, Edinburgh.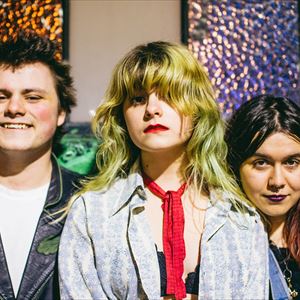 This event is for 18 and over - No refunds will be issued for under 18s.
More information about Skating Polly tickets
Over the past decade, few artists have embodied the unbridled freedom of punk like Skating Polly. Formed when stepsisters Kelli Mayo and Peyton Bighorse were just nine and 13, the Oklahoma-bred band have channeled their chameleonic musicality into a sound they call "ugly-pop," unruly and subversive and wildly melodic. With Kelli's brother Kurtis Mayo joining on drums in 2017, they've also built a close-knit community of fans while earning the admiration of their musical forebears, a feat that's found them collaborating with icons like X's Exene Cervenka and Beat Happening's Calvin Johnson, touring with Babes In Toyland, and starring as the subject of a feature-length documentary. On their double album 'Chaos County Line', Skating Polly reach a whole new level of self-possession, ultimately sharing their most expansive and emotionally powerful work to date.
The follow-up to 2018's 'The Make It All Show', 'Chaos County Line' finds Skating Polly working again with Brad Wood, the acclaimed producer behind indie-rock classics like Liz Phair's 'Exile in Guyville'. As their songs journey from art-punk to noise-rock to piano-driven power-pop, the band matches that musical complexity with a sharply honed narrative voice that manifests in countless forms (ultravivid poetry, diary-like confession, fearlessly detailed storytelling, etc.). Not only the outcome of their constant growth as songwriters, Chaos County Line's scope and depth has much to do with Skating Polly's newly heightened clarity of vision. "All these songs are the most special to me of anything I've ever written, and I think Kelli feels the same," says Peyton. "In the past I didn't always write with a clear purpose, but this time I knew exactly what I wanted to say. We both ended up writing about the most difficult emotional experiences we've ever been through, and instead of being terrified of saying exactly what I was feeling it just all came out so naturally."
Whether they're opening up about matters internal (identity, disassociation, unhealthy coping mechanisms) or external (obsession, deception, gaslighting), Skating Polly imbue that outpouring with an unfettered emotional truth. On songs like Chaos County Line's frenetic lead single "Hickey King," Kelli and Peyton trade off vocals as they share their distinct perspectives on closely related experiences—in this case, the minefield of power dynamics in sex and relationships. "In Peyton's verse she's talking about never knowing how far to go or how much of yourself to give to someone, and when my part comes crashing in it's about guys being possessive and always trying to leave their mark on you," Kelli says. "To me it's the most Skating Polly song on the record, because it's all these different energies happening at once." Meanwhile, on "I'm Sorry For Always Apologizing," Skating Polly deliver a bouncy piece of bubblegum-punk in which Kelli calls herself out on certain messy behavior in her past. And on "Double Decker," Peyton examines her own possibly self-sabotaging patterns, magnifying the song's mood of confusion with a dizzying guitar solo and breakneck vocal performance. Elsewhere on 'Chaos County Line', Skating Polly offer up moments of unabashed fun—"Rabbit Food," for instance, serves up a pure rush of punk delirium spotlighting Kelli's gift for infusing so much psychodrama into her vocal work.
Over the course of its 18 kaleidoscopic tracks, 'Chaos County Line' embraces the kind of combustible emotionality that comes from fully uncompromised self-expression. "I think on this record Kelli and Peyton were really confident in being more honest and more experimental at the same time, whereas in the past they might've made the lyrics more poetic in order to cloak that honesty a bit," says Kurtis. And as their songs shift from devastating to exhilarating to gloriously cathartic, Skating Polly hope to provide the same sense of solace they found in creating the album. "I've had people tell me we've helped them get through a breakup or an abusive relationship or the death of someone they loved, and all these other heavy obstacles everyone goes through," says Kelli. "I feel like I'm not necessarily the best person to draw a map on how to live the happiest life, but I like the idea that our songs can make other people's lives better in some way. I want our music to be like armor."