Waldo's Gift
The Hug and Pint, Glasgow.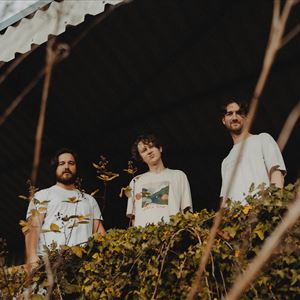 This event is for 18 and over - No refunds will be issued for under 18s.
More information about Waldo's Gift tickets
Waldo's Gift are quickly establishing themselves as one of the most exciting new jazz acts in the UK today. Their debut studio EPs, recorded and released during the pandemic, gained wide support from tastemakers across BBC Radio 1 and 6Music, while their lockdown live sessions racked up big numbers online, both of which have earned them a fervent following internationally. After a string of one off shows, Waldo's Gift return to their live roots and finally embark on their debut headline tour in early 2024, promising a wealth of new music alongside established tracks from their first 2 EPs. All designed to be experienced live.
James from the band says: "We formed in an unconventional way. I was asked by The Gallimaufry in 2017 if I knew anyone who would want a weekly gig there. I had recently met Alun and Harry - we'd had a few jams. Before we knew it we were performing 90 minutes of music every week. We couldn't write fast enough so we had to start improvising to keep it fresh. We did this every week for 3 years until the pandemic. Over that time we organically crafted a sound that was a unique blend of our 3 musical minds, listening and growing together."
Waldo's Gift is the result of three like-minded musicians that have been given the time and space to let their sound naturally take shape, allowing them to hone in on a true sonic representation of themselves both as individual players and together as a three-piece. Their sound is a coherent cacophony of a vast variety of influences, hurtling from the harmonic and rhythmic sophistication of jazz through to the most cutting edge experimental electronic music - all with the unhinged energy of the most powerful left-leaning rock and metal and packed with the emotion and dynamic range of a full orchestra.